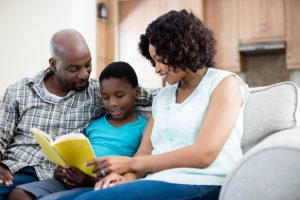 As summer is winding down and back-to-school ramps up, it's time to begin the "Back to Learning at Home" series on Kidsblog. Building on lessons learned from last year's virtual school, set an intention this year to promote learning that inspires curiosity, creativity, and exploration in your kids.
Kicking off the new series are helpful hints and suggested reads for children transitioning from reading with an adult to reading independently. It's so heartwarming for parents to observe the breakthrough moment when their child begins to read words on a page!
A common question parents ask is "When will my child begin to read?" There is no "correct" age as each child is unique. What's important is to let your child learn at their own pace. Learning to read involves two processes:
the mechanics of "decoding" letters and words
the ability to follow a story sequentially from beginning to end
These processes may not happen simultaneously, and mastery in one does not necessarily correlate with the other. A child who is a whiz at decoding may not understand the details of a more complex story or be emotionally aligned with the story content.
Parental support is critical for budding readers without hands-on classroom assistance during this period of virtual school. Expanding on the Kidsblog Beginning Readers, opens a new window article from last year, we've provided additional ways for caregivers to nurture children along this exciting time in their development.
Tips for parents
Share the stage. Ask your child to read a story aloud with you, rather than to you. As you read together, point to words your child will recognize and ask them to say the words aloud. Give your child anywhere from 5 to 12 seconds to decode a word. New skills take time and practice; your patience will be rewarded by improvement gains.
Turn shared reading into a game, make it fun! As you are able to increase the length of reading time, alternate paragraphs, pages, or characters as ability increases.
Make read-alouds interactive. Dialogic reading is a participatory technique. Ask your child questions such as "What do you think will happen next?" after reading a page, or "Can you think of another way the book could have ended?" at the end of the story.
Emphasize the positive. Praise your reader for reading aloud, fixing a decoding mistake, interpreting the story or pictures, and finishing every book. It's an accomplishment to read an entire book without assistance, regardless of the number of words per page.
Try decoding methods other than phonetics. Sounding out words is not the only strategy to identify a word. Experimenting with other strategies may be helpful; limiting to one technique at a time will avoid overwhelming an emerging reader.
Beginning Sound    think of a word with the same first letter. What sound does it make?
Ending Sound    does it look and sound correct?
Chunking     cover the last part of word with finger and say the first part. Switch, then put both parts together. Or look for a recognizable word inside of the bigger word.
Picture clues     what word describes what you see in the picture?
Skip over    read to the end of the sentence for context clues then go back and try again.
Logic check    does the word read make sense and fit in with the rest of the sentence?
Continue with pictures. "Visual reading" is a valuable companion as your child begins to read words. Decoding, interpreting, and evaluating the meaning of an image or visual narrative helps to develop parts of the brain used to read words and text. Heavily illustrated (plug for graphic novels, opens a new window) or wordless stories also serve as a break to the rigor of high cognition. Reading specialists recommend as your child progresses in competency, offer longer books with more pictures and fewer words per page to boost confidence.
The Party and Other Stories, opens a new window

Eliminate comparison with other readers. Publishers often assign a non-standardized level number to Early Reader books that can be misleading. Refrain from voicing the level or labeling books as "easy" or "hard" around your child. Striving to read fluently is not a competition. Labeling others is harmful, especially for young readers who are developing an enjoyment for reading.
Consider age. Parents frequently ask about the recommended age range for a book. A guideline commonly used for a children's book is to target the age of the main character or slightly older. However, each child masters reading fluency and matures emotionally and socially at different ages. Look at the book's appeal with a holistic view. Going beyond reading skills, will your child appreciate, enjoy, or learn from the story?
Embrace re-reading favorite titles. Reading cherished stories over and over can feel like the comfort of visiting an old friend and the benefits are numerous: reading fluency, comprehension, and character perception, to name a few.
What to look for in Early Reader books
It may seem that creating an Early Reader book should be fairly straightforward. Yet think about the challenge of writing a simple story that is not only delightful to read but dispels the anxiety that often accompanies a beginning reader practice. Features often included in Early Readers are rhyming, wordplay, repetition, and word patterns. Illustrations should offer clues for story sequencing as well as decoding words. In addition to the Early Reader format, picture books are another pleasurable choice for newly independent readers, such as books by authors Kevin Henkes, opens a new window or Laura Vaccaro Seeger, opens a new window.
Booklists
Pre-Reader, opens a new window
Early Reader, opens a new window
Beginning Readers Practicing Readers
Transitional Chapter, opens a new window
Easy Chapter, opens a new window
Nice, Polite Characters in Early Chapter Books, opens a new window
Favorites for Grades K-2, opens a new window
Mother Bruce, opens a new window

Be mindful that your role in the learn-to-read journey is to cultivate a joy of reading for your child. Support and guide with gentleness and patience. Sustain the pleasure and comfort of reading together – adored books as well as new discoveries. Emotional and developmental benefits of shared reading continue even after a child can read fluently on their own. This is a time where connecting with your child is more important than ever. What better way than to cuddle up and read a story?
Create a text-rich environment at home with books in various places around your house (or available on your eReader as currently may be the case). Enthusiastically talk about books you're reading, and be sincerely interested in and have genuine conversations about the books your children choose to read. Revel in cultivating a reading lifestyle for your family!
Stay tuned for more articles in the "Back to Learning at Home" series. Please let us know, opens a new window topics you are interested in and how we can support your family through the coming school year.
Special thanks to children's librarian collaborators Laura Kennett and Adrienne Graham at the Novato Library!
Sources
Kashner, Zoe. (n.d.). Raise a reader: A parent guide to reading for ages 3-5, opens a new window. Parents. Scholastic [website]
Paul, Pamela & Russo, Maria. (2019). Part Two: Your Emerging Reader. How to Raise a Reader, opens a new window (pp 45-65). New York, NY: Workman Publishing,
Taylor, Melissa. (2019, May 17). Learning to read: word attack strategies beyond sound it out, opens a new window. Imagination Soup [website]
Photo courtesy of Pixwizard