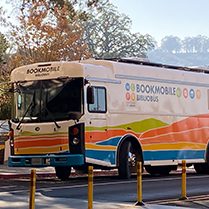 The Bookmobile is stocked with a large collection of adult books, children's books for every level of reader, books on CD, DVDs and a large Spanish collection for children and adults alike. We can also bring your requests out to any stop. Come visit us at a stop near you!
Download current schedule
Schedule subject to change. Please call (415) 473-4264 with any questions.
IMPORTANT NOTE: The information provided in the table below is only a guide to the regular Bookmobile stops.
For the most accurate and up-to-date information, please refer to downloadable monthly schedule.
Stop

Days

Times

Old Gallinas
251 N San Pedro Rd, San Rafael
1st and 3rd Mondays
10:00 am - 11:00 am
Parnow Friendship House
164 N San Pedro Rd, San Rafael
1st and 3rd Mondays
2:00 pm - 2:30 pm
North Bay Children's Center
22 Tinker Way, Novato
1st and 3rd Mondays
3:45 pm - 4:15 pm
Deer Park Novato
646 Canyon Rd, Novato
2nd and 4th Mondays
11:15 am - 11:45 am
Los Robles
100 Los Robles Rd, Novato
2nd and 4th Mondays
12:30 pm - 1:00 pm
Entrada Drive
524 Entrada Dr, Novato
2nd and 4th Mondays
1:10 pm - 1:40 pm
Bel Marin Keys Community Ctr.
4 Montego Key, Novato
2nd and 4th Mondays
3:00 pm - 4:00 pm
The Redwoods
40 Camino Alto, Mill Valley
1st and 3rd Tuesdays
1:00 pm - 2:00 pm
Tamalpais Valley
Intersection of Jean and Linda Way
1st and 3rd Tuesdays
2:15 pm - 3:30 pm
Head Start, Hamilton Child Dev. Ctr.
5520 Nave Dr, Novato
2nd and 4th Tuesdays
10:00 am - 11:00 am
North Marin Comm. Services
680 Wilson Ave, Novato
2nd and 4th Tuesdays
1:00 pm - 2:00 pm
Rotary Valley
10 Jeanette Prandi Way, San Rafael
2nd and 4th Tuesdays
3:00 pm - 4:00 pm
Laguna School
2657 Chileno Valley Rd, Petaluma
1st, 2nd, 3rd & 4th Wednesdays
11:30 am - 12:00 pm
Dillon Beach, General Store
1 Beach Ave, Dillon Beach
1st and 3rd Wednesdays
1:15 pm - 2:15 pm
Tomales
27005 Highway 1, Tomales
1st and 3rd Wednesdays
2:30 pm - 3:30 pm
Tomales Elementary School
40 John St, Tomales
1st and 3rd Wednesdays
3:40 pm
West Marin Ranches
2nd and 4th Wednesdays
Nicasio Elementary School
5555 Nicasio Valley Rd, Nicasio
2nd and 4th Thursdays
10:30 am - 11:30 am
Lucas Valley
Intersection of Idylberry Rd and Mt. Shasta
1st and 3rd Thursdays
2:30 pm - 3:30 pm
Library Beyond Walls
3rd Thursdays
10:00 am - 1:00 pm
Marinwood Comm. Ctr.
775 Miller Creek Rd, San Rafael
2nd and 4th Thursdays
2:30 pm - 3:30 pm