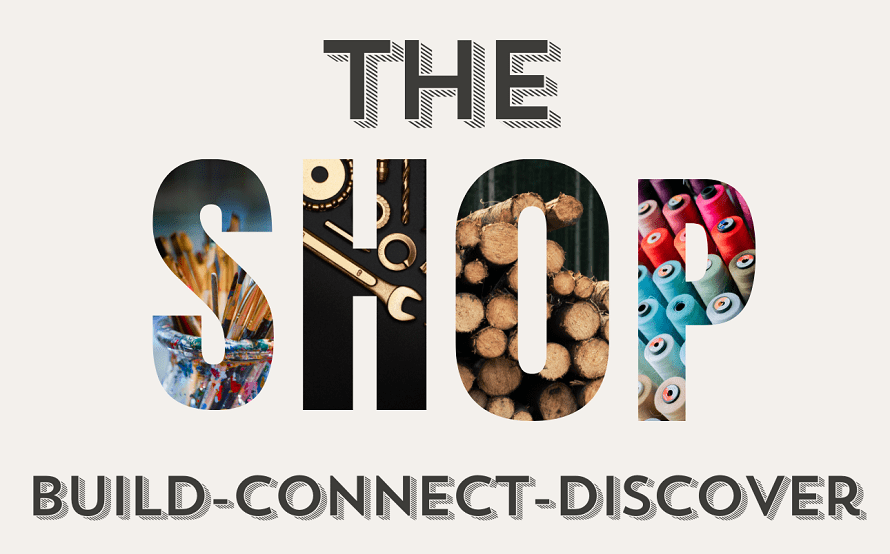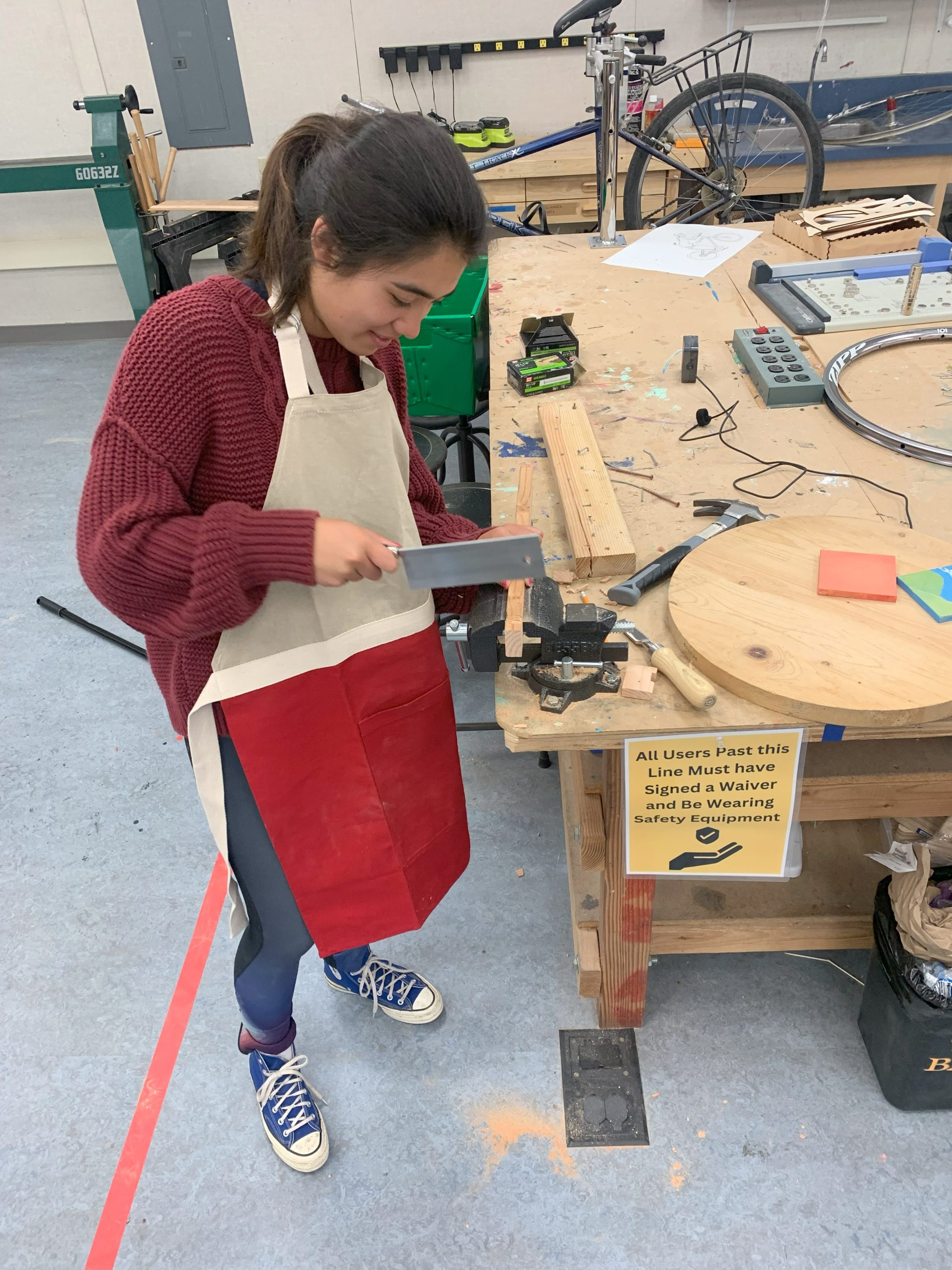 The Shop is a public space for making, learning, and building community. We are located next to the South Novato Library and we're free for all to visit and use.
We offer a wide range of tools and activities for patrons of all ages, such as woodworking, painting, bicycle maintenance, sewing and more. Our staff are more than happy to assist you with any project you are working on or trade you would like to learn, within our availability. This is your space to create! We are also here to assist schools and community groups with their learning goals and we're always excited to collaborate.
The Shop is a place where community and creativity come together.
Learn more about what we do and what we have at The Shop below.
Still have questions? Send us an email or give us a call.
| | |
| --- | --- |
| Monday | Closed |
| Tuesday - Level 2 | 3 - 7 |
| Wednesday - Level 1 | 2 - 5 |
| Thursday - Level 2 | 1 - 4 |
| Friday | Closed |
| Saturday - Family Days | 11 - 3 |
| Sunday | Closed |
In order to guarantee maximum assistance and safety, we have separate days for different activities. Level 2 programs require a training and waiver, while Level 1 programs do not.
Training and waiver not required for Level 1 programs, materials, tools and activities.
Programs include: Water painting, acrylic painting, spray painting, origami, coloring, sewing, knitting, Legos, carboard cutouts, chalk drawings, playdough, bicycle maintenance, small scale architecture, and laser engraving
Training and waiver are required for Level 2 programs materials, tools and activities.
Programs include: Joint carpentry, general carpentry, whittling, woodturning, and wood crafting
Saturdays are always Family Days.
These are family friendly activity days, where you can work with our staff on a particular project.
Sometimes they are also training days or seminars where you can learn specific skills we consider important for you to know at home.
You can learn more and see in advance what we are doing by checking our website.
Either way, you can expect to have a good time learning something new if you visit us on a Saturday.
No users under the age of 8 allowed inside without a parent or guardian.
All power tools must be checked out by staff before use and users must pass a brief training.
No food allowed inside.
No earphones while inside the shop.
Open toed shoes are not allowed around power tools.
Activities involving power tools or chemicals may require safety equipment.
No tools may leave the shop under any circumstances.
All materials are available for use in the shop, but stock is limited. For larger personal projects you may be requested to provide those materials yourself.
Consistent waste of materials is prohibited and may lead to removal from the program.
In the event of an emergency, all projects must immediately come to a stop and the shop must be vacated.
All users over the age of 18 must individually sign the waiver

, opens a new window

. Users under the age of 18 must have a parent or guardian to complete and sign the waiver

, opens a new window

. Each waiver is good for one year and is only required for Level 2 programming.
No weapons of any kind will be made inside the shop or brought inside the shop.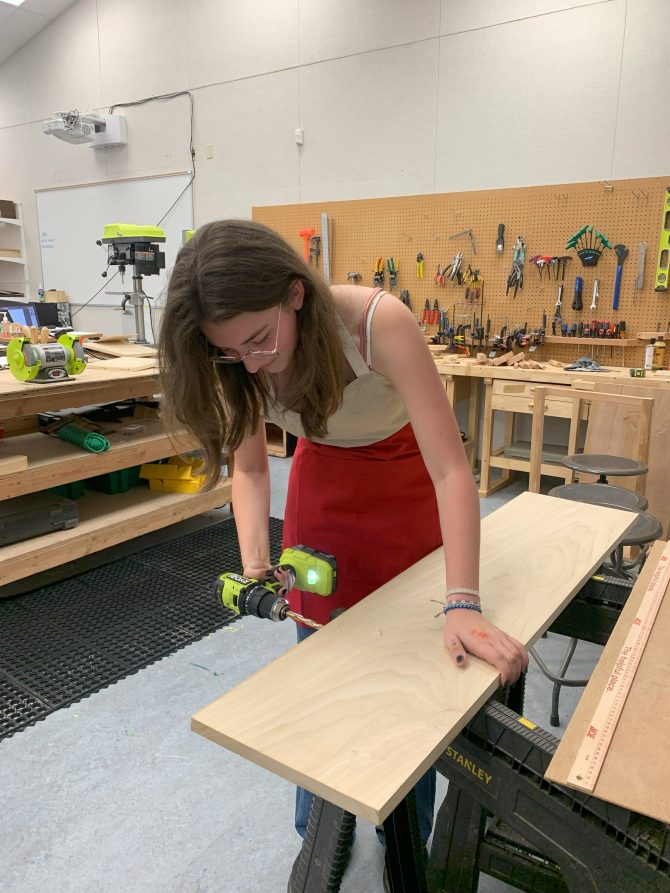 Here are some of the tools we have:
Miter saw
Bandsaw
Circular saw
Reciprocating saw
Jigsaw
Drill press
Power drill
Belt sander
Orbital sander
Bench grinder
Lathe
Hand router
Rotary tool
Hand saws
Hand planers
Chisels
Whittling knives
Hot glue guns
Allen keys
Bleed kit
Torque wrench
Sewing machine
Sewing needles
Spray paint
Laser cutter
Teachers & Community Groups
If you are a teacher or a community group leader looking to expand your learning goals and curriculum with us, please send us an email at: SNO@marincounty.org. We can visit you, or even better you can visit us and have full access to our menu of hands on learning.
Woodworking/Woodturning
Blueprint design
Painting
Hand Tools 101
Power Tools 101
Fun with Magnets
Fix My Own Clothes
And more!
Frequently Asked Questions