The Great Courses, produced and distributed by The Teaching Company, is an acclaimed collection of video lectures featuring professors and experts from notable institutions and universities. Teachers are selected for their skill at explaining complex subjects in a clear, engaging manner. Most of the lectures are less than an hour long.
Our streaming video service, Kanopy, offers hundreds of titles from The Great Courses. And to encourage lifelong learning, these titles do not count toward the Kanopy monthly limit of 8 checkouts!
To log on to Kanopy you will need your library card to create a free account. No library card? Get one here! Access to Kanopy is limited based on your home address.
Here is a sample of titles from The Great Courses that illustrates the diversity of topics available in the collection. Other titles cover subjects such as architecture, astronomy, literature, chemistry, career development, health, and more.
This course explores the history of how humans have produced, cooked, and consumed food--from the earliest hunting-and-gathering societies to the present. It also explores how civilizations and their food ways have been shaped by geography, native flora and fauna, and technological innovations.
In collaboration with National Geographic, this series takes you into the multifaceted world of birding, focusing on the astonishing range of bird species in North America. It includes an in-depth study of bird identification, covering bird size, shape, and color, flight patterns, geographic range, and habitats. It also covers bird plumage, birdsong, and top North American birding spots.
In these 24 lessons, award-winning artist and professor Ricky Allman of the University of Missouri-Kansas City demonstrates how to select painting tools and apply techniques, as well as how to develop the visual skills and muscle memory that make painting an infinitely adaptable form of artistic expression. From understanding your painting surface and which brushes to use, to utilizing reference images and learning the proper way to layer oil paint, Professor Allman leads you step by step through hands-on demonstrations.
Presented by a chef-instructor at The Culinary Institute of America, this is a series of 16 lessons on cooking in the Mediterranean style designed to boost your confidence in the kitchen and help you create meals that you are proud to share.
Music is an integral part of humanity, from large societies to small tribes, but why? This course probes this profound mystery, exploring the origins of music's emotional powers, the connections between music and language, the links between hearing, moving, remembering, and imagining; and beyond.
Intensively illustrated with diagrams, experiments, animations, graphs, and other visual aids, these 60 lectures by engaging and award-winning Professor Richard Wolfson introduces viewers to scores of fundamental ideas such as Newtonian mechanics, waves and fluids, thermodynamics, electricity and magnetism, optics, relativity, and quantum theory.
These lectures teach you the principles and techniques of sitting meditation, the related practice of walking meditation, and the highly beneficial use of meditative awareness in many important activities, including eating and driving. You will also learn how to use the skills of meditation in working with thoughts and emotional states, in deepening sensory awareness of the body, and in becoming deeply attentive to the operation of your mind.
For most Americans, the history of the United States is built on a set of long-accepted beliefs about events, each of which resonates in the nation's collective memory. Our knowledge of history - or what we believe to be history - is the lens through which we view and interpret the world. And when that lens is distorted with misleading information, it has powerful effects on how we perceive the present and how we make decisions in the future, from choosing whom to vote for to interpreting the latest developments in today's news and opinion pieces.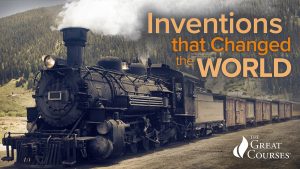 This course explores the inventions that have changed the world from prehistoric times to the 21st century. Along with recounting famous inventions such as the steam engine, airplane, atomic bomb and computer chip, these lectures explore a number of surprising innovations, including beer, pagodas, indoor plumbing and department stores.
In this thrilling, visually intensive journey, Professor Marc Zender whisks viewers around the globe to explore how an array of sophisticated writing systems developed, which were then adopted and adapted by surrounding cultures.
---
If you are unable to access Kanopy, or prefer a format other than streaming video, many titles in The Great Courses series are also available in our libraries in CD and DVD formats.
Place your hold in our online catalog or call one of our branches during open hours for assistance.
---
Writing and research by Tom