El programa StoryWalk® 2022 ha finalizado.
1.   Su StoryWalk® comienza en la cabecera del Tennessee Valley Trail
      591 Tennessee Valley Road, Mill Valley

2.   Siga el camino del Tennessee Valley Trail a través de su Parque Nacional local para leer el cuento.  Busque las páginas junto al sendero.
Detalles para planificar su visita:

La distancia del StoryWalk es de aproximadamente 1/2 milla. El tiempo estimado para completar el paseo es de 30 minutos.
El sendero es accesible para sillas de ruedas y carritos de bebé.
Hay estacionamiento y baños disponibles al inicio del sendero.
Por favor, recuerde llevar merienda y agua, y traer capas adicionales para estar cómodo.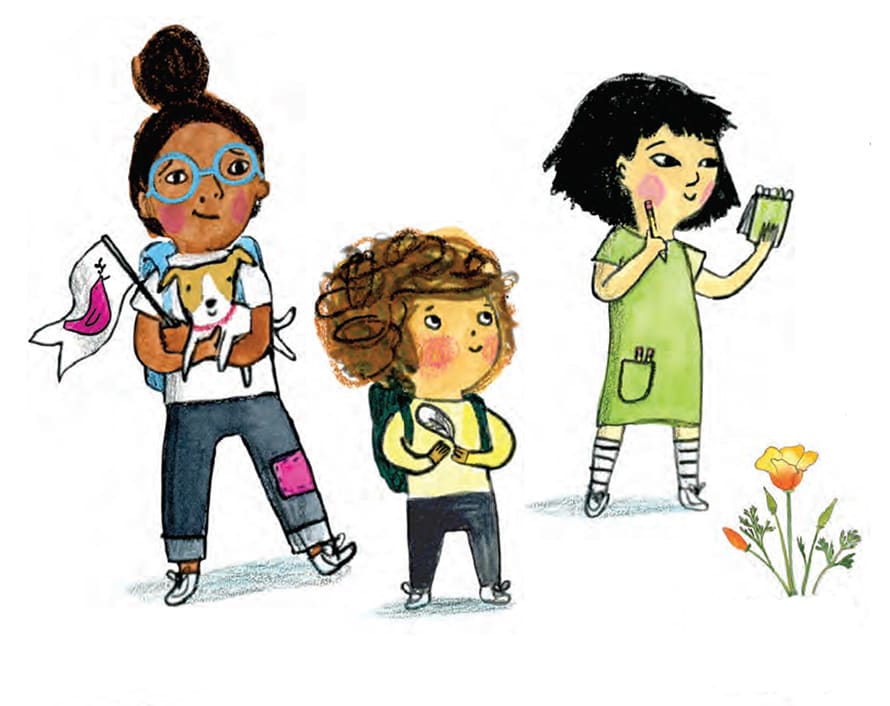 Lean juntos un cuento mientras disfrutan de un paseo por su ciudad o parque local.
Un StoryWalk® es una actividad divertida, familiar y al aire libre, en la que las páginas laminadas de un libro infantil se colocan a lo largo de una ruta o sendero al aire libre. Cada parada en el camino muestra una página del libro.
The Hike de Alison Farrell, trata de tres jóvenes amigos que salen de excursión para explorar su bosque local.
Recoja una guía de la ruta para The Hike en la Biblioteca de Marin City.
¡Felices senderos!
Destacamos unas divertidas actividades de aprendizaje que pueden hacer juntos a lo largo del paseo y después del mismo.
Explore las actividades a continuación en inglés y en español.
Destacamos listas de libros con sugerencias de lectura para aprender más sobre el ciclo del agua y la naturaleza.
El proyecto StoryWalk® cuenta con el generoso apoyo de los Amigos de la Biblioteca del Condado de Marin.
Gracias a todos nuestros socios comunitarios y a los miembros participantes de nuestras comunidades cívicas y empresariales.
Golden Gate National Parks Conservancy - National Park Service - Sausalito Public Library

Este programa interactivo está diseñado para fomentar el sentido de comunidad y el amor por las historias. Anima a los miembros de la comunidad a conocer sus negocios y parques locales, a la vez que promueve el juego, la alfabetización y el ejercicio a través de una búsqueda del tesoro inspirada en los libros.
El proyecto StoryWalk® fue creado por Anne Ferguson de Montpelier, VT, y desarrollado en colaboración con la Biblioteca Kellogg-Hubbard. Storywalk® es una marca de servicio registrada propiedad de la Sra. Ferguson.