The StoryWalk® 2022 program has now ended.
1.   Your StoryWalk® starts at the Tennessee Valley Trailhead
      591 Tennessee Valley Road, Mill Valley

2.   Follow the Tennessee Valley Trail through your local National Park to read the whole story.  Look for the pages alongside the path.
Details for planning your visit:

The StoryWalk distance is approximately 1/2 mile.  Estimated time to complete the walk is 30 minutes.
The trail is wheelchair and stroller accessible.
There is a parking lot and restrooms available at the trailhead.
Please remember to pack a snack and water bottle, and to bring extra layers to stay comfortable.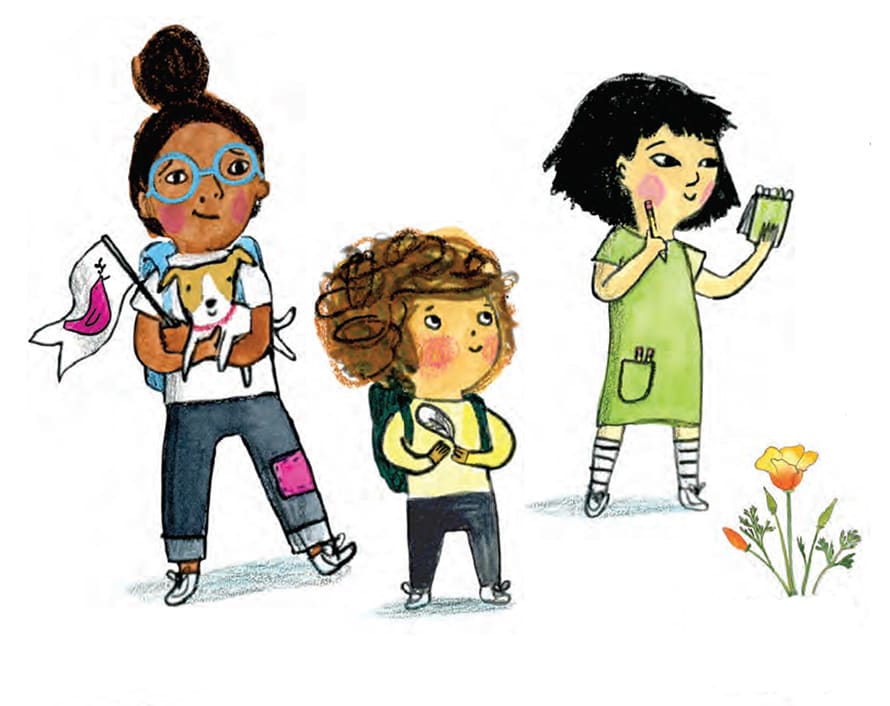 Read a story together as you enjoy a walk through your town or local park!
A StoryWalk® is a fun, family-friendly, outdoor activity, where pages of a book are placed along a walking route. Each stop along the way displays one page of the book.
The Hike by Alison Farrell is about three young friends who set out on a hike to explore their local forest.
Pick up a route guide for The Hike from the Marin City Library.
Happy trails!
Here are some fun learning activities you can do together along the walk or after the walk.
Here are some booklists with suggested reading to learn more about the water cycle and nature.
The StoryWalk project is generously supported by the Friends of the Marin County Library.
Thank you to all our community partners and participating members of our civic and business communities!
Golden Gate National Parks Conservancy - National Park Service - Sausalito Public Library - Mill Valley Public Library

This interactive program is designed to foster a sense of community and a love of story. It encourages community members to get to know their local businesses and parks, while promoting play, literacy, and exercise through a book-inspired treasure hunt.
The StoryWalk® Project was created by Anne Ferguson of Montpelier, VT and developed in collaboration with the Kellogg-Hubbard Library. Storywalk® is a registered service mark owned by Ms. Ferguson.