A Four-Part Series Designed to Gain Understanding and Foster Awareness Through Conversation and Connection
A collaboration of Marin County Free Library and Age Forward Marin
---
The goal of this series is to learn about each other, to foster social connection and understanding through honest conversation and reflection, to confront our biases and go beyond them.
Each evening will begin with a presentation by a different speaker and then participants will break into small discussion groups before coming together for a brief wrap up.  Ideally, participants will attend all four evenings and have the chance to get to know one another.
If you are eager to learn about yourself and others, and value constructive, respectful interactions, please join us.
To sign up for this series on Zoom, click here, opens a new window. You only need to register once to attend all four events.
After registering, you will receive a confirmation email with information about joining the presentations.
Wednesdays from 6:30 pm to 8:00 pm - Online via Zoom
---
September 22, 2021
Laura Eberly is the founding director of Mountaintop Coaching & Consulting, providing diversity, equity, and inclusion services. She holds a BA and MSW from the University of Chicago and is ordained as a deacon in the Episcopal Church. She is a proud alum of Catalyst Project's Anne Braden Anti-Racist Organizing Training Program. Laura identifies as a queer white woman.
---
October 6, 2021
Alejandro Lara is a first-generation Latino college graduate from UC Davis. His background has had a significant impact on his life today. Alejandro currently works as the Communications Coordinator for Canal Alliance, a local nonprofit serving Latino immigrants and their families.
---
October 20, 2021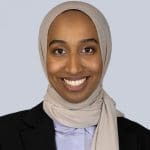 Tahirah Dean is an Afro-Latina Muslim woman and a Staff Attorney at Legal Aid of Marin, pursuing her passion for housing justice. Previously, she worked as an immigration attorney assisting asylum seekers and those seeking work visas. Tahirah holds a B.A in English and Political Science from the University of North Texas, and a JD from Boston College Law School.
---
November 3, 2021
In 1997, Jason Lau, Ph.D., a first-generation college graduate, traveled from Hong Kong to the U.S. to further his education. Today, he is the interim associate dean and senior business officer for the School of Extended and International Education for Sonoma State University and chairs the Marin County Child Care Commission and the Marin YMCA Volunteer Board of Managers. 
---