If you haven't checked out our libraries lately, you're missing the full story. We encourage all community members to stop by for a visit to celebrate with us and find out what we have to offer during National Library Week, April 23-29.
Most people know about the wealth of stories available at the library, from picture books and large print to audiobooks and ebooks. But there's so much more to the story of libraries. 
Libraries are welcoming spaces that bring communities together for education, entertainment, and connection through book clubs, storytimes, movie nights, crafting classes, lectures, performances, exhibits, and more. See what's happening on our online calendar.
Marin County Free Library offers a wide array of programs, classes and resources, including Park Passes, Museum Passes, a Community Seed Exchange, Citizenship Services, 3D Printing, and Tech Connect Packs with Chromebooks and hotspots.  We evolve with you, to serve you - from changes in library materials to technology, from local community connections to reaching out to the world, from learning a new skill to enjoying cultural traditions.

Libraries play a critical role in the economic vitality of communities by providing internet and technology access, literacy skills, and support for job seekers, veterans, and students. Marin County Free Library's Education Equity Initiatives aim to close gaps in early childhood education, literacy development, and high school graduation and expand opportunities for low-income students and students of color.

As we evolve and expand our stories, we're announcing two exciting new features during National Library Week!
Mobile Checkout:  This April, we're rolling out an upgrade to our library app - mobile checkout!  You'll be able to use the MARINet app on your device to check out library materials by using the camera phone to scan library barcodes.  No waiting in line at the desk or self-check machine!  More details  

Please note: There is a known issue with the iPhone 14 Pro which impacts barcode scanning with any app, including the MARINet app. App designers are hoping to find a workaround, but in the meantime barcode scanning is unfortunately not possible with an iPhone 14 Pro.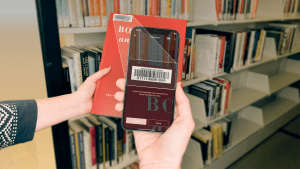 Local Art & Artists:  We're adding art to our story!  During National Library Week, the library, in partnership with the Marin Department of Cultural Services, is launching a call for local artists to submit artwork for a new community art lending collection at the library.  Find out more about submitting artwork at marinlibrary.org/artist.
One more bit of news worth celebrating is that starting Monday, April 24, we are happy to announce that the Anne T. Kent California Room will be operating with a new schedule for the public to allow increased access.
Expanded Hours at the Anne T. Kent California Room
Monday through Friday, open 9 am to 6 pm.